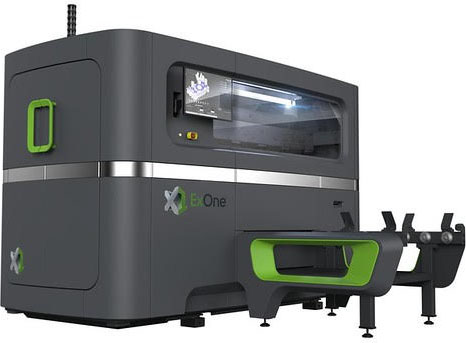 See the video:
https://youtu.be/y6cOkDoRk5U
Source:
*X1 160PRO™ and EXOne® are the property of ExOne Corporation.
ExOne, a global leading manufacturer of 3D printers is introducing a new high-volume metal 3D printer—the X1 160PRO™.* ExOne states that it provides more than 2.5 times the build volume of other systems on the market today. The build envelope is 31.5 x 19.7 x 15.8 in (800 x 500 x 400 mm), so it can produce parts of substantial sizes.
As far as speed is concerned, the throughput rate of the 160PRO is more than 10,000 cm3/hr. 3D printer accuracy can be gauged by x,y and z tolerances as well as minimum layer height. For the 160PRO, X1 specifies a minimum layer height of 30 to 200 µm and for their metal printers, accuracies of +/- 0.13 mm (0.005 in) in components under 75 x 75 x 75 mm (3 x 3 x 3 in); +/- 0.25 mm (0.010 in) in components up to 250 x 250 x 250 mm (10 x 10 x 10 in); and +/- 1.3 mm (0.050 in) for the largest components up to 780 x 400 x 400 mm (30.7 x 15.75 x 15.75 in).
According to X1 multiple parts can be printed simultaneously and six different metal materials, including stainless steel choices, can be printed as well as ceramics and composites. They also claim to have industry-leading density and repeatability. Material data sheets are available on their website.