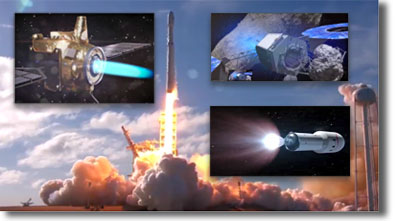 See the video:
https://www.youtube.com/watch?v=6H0qsqZjLW0

Sources:
1) https://spaceflightsystems.grc.nasa.gov/sspo/next-c/
2) https://www.grc.nasa.gov/WWW/ion/overview/overview.htm
3) https://www.nasa.gov/mission_pages/tdm/tdm-bridge-builder-daniel-herman
4) https://www.grc.nasa.gov/www/ion
5) https://www.grc.nasa.gov/WWW/hall/present/inspace.htm
While ion propulsion engines have been developed and tested in past years, a high power ion engine is coming 'online'. NASA Evolutionary Xenon Thruster (NEXT) ion propulsion technology has been developed for use in deep-space and interstellar missions. According to NASA, their "NEXT ion propulsion system consists of a gridded ion thruster, Power Processing Unit, thruster gimbal, a xenon propellant feed system, and a control interface captured either in a dedicated unit or distributed between the ion propulsion system and the spacecraft."
Furthermore, they specify that either a solar cell powered or nuclear electric heat source would be used for powering the ion drive along with the xenon propellant.
Based on the information on NASA's website regarding past ion engines and future goals, an engine producing 30 to 50 kW of power is anticipated.
NASA's website reveals, "modern ion thrusters are capable of propelling a spacecraft up to 90,000 meters per second- about 200,000 mph. To put that into perspective, the space shuttle is capable of a top speed of around 18,000 mph. The tradeoff for this high top speed is low thrust (or low acceleration)." But it doesn't 'burn through' fuel like a rocket, and according to NASA's site, "modern ion thrusters can deliver up to 0.5 Newtons of thrust. To compensate for low thrust, the ion thruster must be operated for a long time for the spacecraft to reach its top speed."
NEXT-C ion drive is for commercial use and the equipment is scheduled to be delivered for flight testing in early 2019.